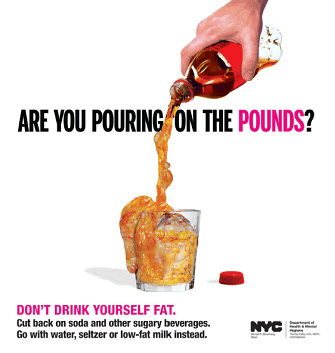 [ usa, ny. anti-obesity ad]

The ads — which cost about $277,000 to develop over three fiscal years, including money for creative work and focus groups — will run in 1,500 subway cars for three months. (The $90,000 cost of the subway advertisement comes through a private donor, the Fund for Public Health in New York.)


someone asks: but are these images we really need clogging the arteries of our subways every day?
i: yes, i think so. i think we sometimes need a jolt that things aren't sugar, nice, and everything innocent (everything that's put) out there.

it nicely ties in with the other bit we often have in our hands. the burger, otherwise to be known as the bad bits of unhappy cows genetically engineered by the companies.